SCHUNK
From collaborative grippers to flexible solutions, SCHUNK provides the most comprehensive gripper offering on the market.

Co-act EGP-C
Collaborating gripper for small components
The EGP-C is an electric 2-finger parallel gripper certified for collaborative operation with actuation via 24V and digital I/O. They are ideal for gripping and moving small and medium-sized workpieces with flexible force in collaborative operation.
Certified gripping unit saves effort for safety assessment of the application
Functional safety ensured due to inherent safety with current limitation
Pre-assembled gripping unit with robot interface for easy and fast integration
Plug & Work for a variety of different cobots
Integrated status display For a visual indicator of the application state
Service flaps in the collision protection cover fitted to adjust the gripping force and the sensor system
Control via digital I/O for easy commissioning and rapid integration into existing systems
Brushless DC servomotor for almost wear-free use and a long service life
Attachment fingers available with three different inserts
---
Parallel Grippers
SCHUNK standard parallel grippers include small parts, universal, long-stroke, and sealed grippers for safe and precise handling of workpieces. They can handle workpieces with weights of anywhere between a few grams and 80 kilograms.
---
Angular Grippers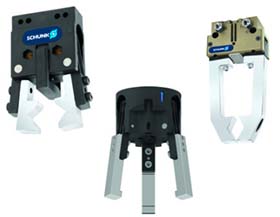 SCHUNK angular grippers include small-component, universal, large-stroke and sealed grippers with 2- or 3-fingers for safe, precise handling of workpieces with different weights. If workpiece sizes vary, angular grippers may be the more economic alternative to parallel grippers, depending on the respective application.
---
SCHUNK Grippers for Electronic Industry
Industry Standard Grippers for Machine Loading
Miniature Parallel Gripper MPG-plus


R.R.Floody Company is a SHUNK distributor in Chicago and Northern Illinois. We offer technical support to help our customers solve their applications.
---