Robotunits
Robotunits is a global manufacturer of a Modular Automation System for production equipment. This includes Conveyor and Linear Motion Technology, Material Handling, as well as Machine Framing and Guarding. The core of Robotunits is its unique aluminum extrusion & fastening technology which strictly follows a lean manufacturing concept of "More with Less".
Belt Conveyors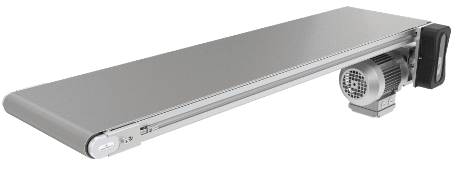 Configure your belt conveyors according to your requirements: your choice of belt types, customized drive options, position, and speed. Each Belt Conveyor can be delivered with a conveyor stand, flexible side guides and many other accessories from the Modular Automation System.
Belt Conveyors
---
Powered Roller Conveyors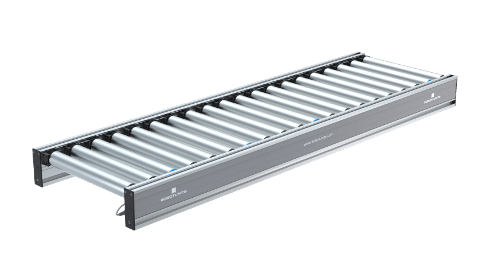 The Powered Roller Conveyors are 24V conveyors for precise and efficient transportation of containers, totes or boxes. Ideal for zero-pressure accumulation, each zone can be controlled separately. The control units are pre-installed inside the extrusion, covered and ready to use (plug-and-play).
Powered Roller Conveyors
---
Modular Belt Conveyors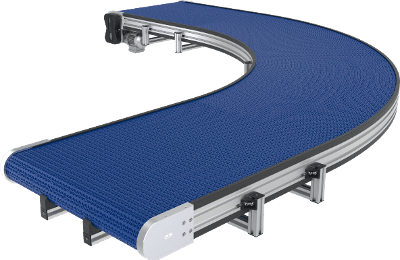 The Modular Belt Conveyor is designed for tough applications, accumulation, transporting parts with sharp edges or heavy loads. Straight, curved, and inclined sections can be combined with just a single drive. This design allows products to be pushed off laterally. A wide range of belt options and accessories are also available.
Modular Belt Conveyors
---
Timing Belt Conveyors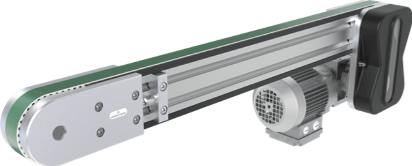 The Timing Belt Conveyors are used for the precise positioning and transportation of bulky or heavy parts. A v-guided timing belt guarantees precise tracking. The belt surface is available with different covers or attachments. High-quality connection shafts allow you to utilize multi-lane setups.
Timing Belt Conveyors
---
Transfer Unit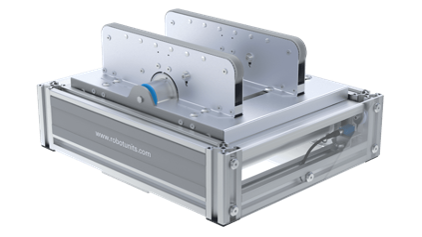 The safe and compact transfer unit with an angle of 90° in both directions is designed to be particularly space-saving and can be subsequently installed in existing lines. As with all Robotunits roller conveyor units, the electronic controls are fully pre-installed and they are compatible with the complete modular system.
Transfer Unit
---
Turntable
The stepless rotation range with fully integrated electronic controls can be configured from 0° to 270° and guarantees the individual and correct distribution of conveyed goods in production. Depending on individual requirements, the turntable can alternatively be equipped with a belt conveyor, timing belt conveyor or modular conveyor.
Turntable
---
Lift Station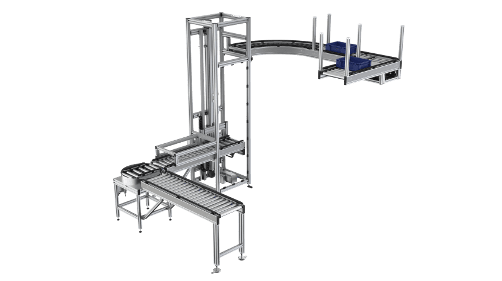 The variable Robotunits Lift Station enables the energy-efficient transport of products on two levels within industry and production areas. With a speed of up to 1 m/s and an acceleration of up to 3 m/s², goods are transported within dimensionally stable containers to the right place. The standard conveying height is up to 5 meters. The Highlight: The complete conveyor technology from the Robotunits Modular Automation System can be integrated. For roller conveyor systems the Lift Station is available as a Plug and Play solution. This makes conveying on two levels child's play.
Lift Station
---
Linear Motion Units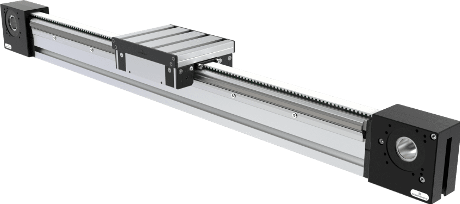 The Robotunits Linear Motion System is based on their proven Extrusion and Fastening Technology. Its robust and modular construction saves time in design and assembly. Single or double carriages are available and the system allows for the direct attachment of an energy chain.
Linear Motion Units
---
Omega Linear Motion Units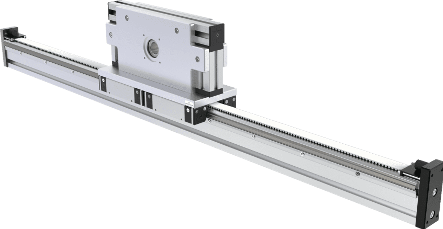 Used as individual unit or x-y-z gantry for the transport and exact positioning of parts.
Omega Linear Motion Units
---
MBS PickStar Rolling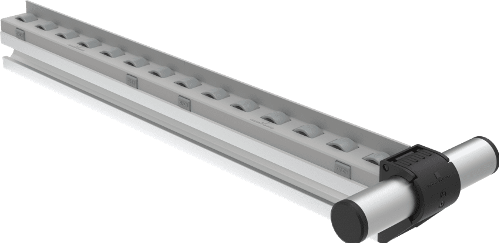 The Robotunits Material Handling System, (MBS PickStar Rolling), combines the unique Extrusion and Fastening Technology with individually configurable roller tracks. The system is designed to transport boxes, totes or cartons up to 30 kg. Track widths and lengths are freely adjustable.
MBS PickStar Rolling
---
MBS PickStar Sliding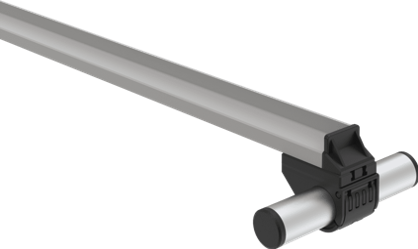 The Robotunits Material Handling System, (MBS PickStar Sliding), can be used in combination with the aluminum Round Tube or the Extrusion Technology. This makes the system particularly flexible and easy to design.
MBS PickStar Sliding
---
Safety Fence Basic System

The Robotunits Safety Fence Basic System is ideal to safeguard numerous applications in machine building and production automation. It provides strong impact safety and can easily be installed by one person.
Safety Fence Basic System
---
Safety Fence Allround System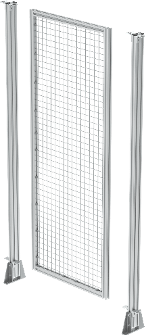 In the Robotunits Safety Fence Allround System, each panel can easily be installed between pre-installed fence posts by one person. For large area accessibility, e.g. equipment replacement or modifications, panels can be quickly removed and re-installed.
Safety Fence Allround System
---
R.R.Floody Company is a Robotunits distributor in Chicago and Northern Illinois. We offer technical support to help our customers solve their applications.
---