Universal Robots UR20
This is the Cobot. Redefined!
The UR20 is built for higher payloads, faster speeds, and superior motion control all within a lightweight, small footprint system for optimal versatility within your existing production space. No special electrical hookups or costly wiring solutions are required. Even with the big step up in performance, a single-phase standard power outlet is all that's needed to power the UR20.
With a 1750 mm reach and 20 kg payload capacity, UR's next generation cobot handles more tasks, fits more applications, and assists in more environments than ever before.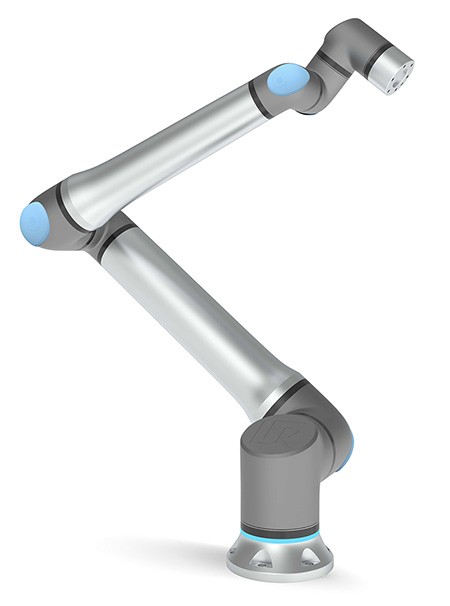 Cognex In-Sight D900
Solved challenging OCR, assembly verification, and defect detection applications
The In-Sight D900 is a smart camera powered by In-Sight ViDi software designed specifically to run deep learning applications. This embedded solution helps factory automation customers easily solve challenging industrial OCR, assembly verification, and random defect detection applications anywhere on the line that have gone uninspected because they are often too difficult to program with traditional, rule-based machine vision tools.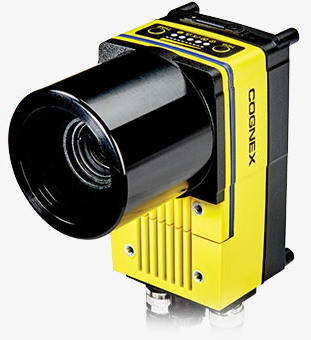 Mitsubishi Electric RV-8CRL Vertical Robots
High Quality, Low Cost Solution
The vertically articulated RV-8CRL robot from Mitsubishi Electric is a high-performance, cost-effective solution with no battery backup required on the robot's internal encoders, increasing uptime and reducing maintenance. With a slim, compact design featuring less wiring, intelligence and safety options, an IP65 rating, and simple construction, the RV-8CRL is well suited for an extensive variety of applications.
Additional features include:  
Expanded effective working area
User wiring built into arm
Beltless coaxial drive mechanism
Mitsubishi Electric FR-E800 Inverters
Extended Life Span with Enhanced Life Diagnosis Functions
The FR-E800 Series variable frequency drive is built upon Mitsubishi Electric's proven variable speed control technology throughout years of reliable operation across various constant and variable torque applications. Designed to save energy and minimize cost, the FR-E800 brings together advances in quality, performance, and predictive maintenance capabilities in one multi-purpose inverter.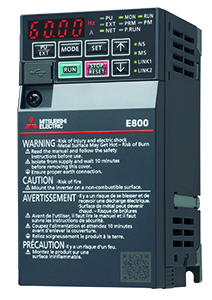 Mitsubishi Electric Launches MELSERVO-J5 Series Servo Products
Designed to reduce total cost of ownership
Mitsubishi Electric's next generation of servo products, the MELSERVO-J5 Series, has just been released and brings cutting-edge technology, industry-leading performance, and advanced servo features to empower users with improved reliability, versatility, flexibility, and efficiency. Some of the most important features include quick tuning, vibration suppression, CC-Link IE TSN® compatibility (in addition to other common industrial networks), single cable motor connection, predictive maintenance AI within the servo itself, and a 26-bit batteryless encoder, among others.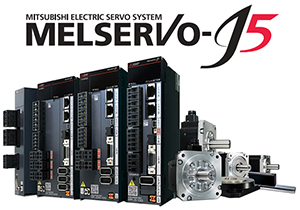 CVGC Carbon Vacuum Grippers
Designed for Universal Robots collaborative robots
With their innovative design, Coval's CVGC carbon vacuum grippers correspond perfectly to the weight constraints, flexibility and safety of collaborative robot applications.
The CVGC series is composed of a carbon structure, 2.5 times lighter than aluminum and offering mechanical strength 6 times greater.  They feature foam gripping interface, for versatile product handling and flexible material on gripper edges to protect both gripper and operator.
An integrated "function" block includes vacuum generator, pilot control cartridge, silencer and vacuum switch, for a complete package.  All this, in a very compact and ultralight design, guarantees a fast setup and easy integration on the robot.
Available in 3 sizes:
150mm x 150mm
240mm x 120mm
320mm x 160mm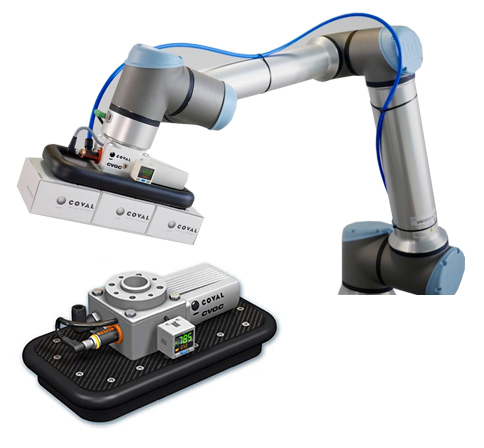 Mitsubishi MELIPC Industrial PCs
The MELIPC Series of industrial-use computers for data computing, edge computing and remote monitoring is designed to enable Internet of Things (IoT) on factory floors. 
With four initial models, the flagship MELIPC combines real-time equipment control and information processing in one solution. All four models can be purchased standalone with Windows® 10 IoT Enterprise 2016 installed, or can be purchased together with software as a comprehensive MELIPC data solution.
MI1000 – Compact, low-cost for introducing IoT on the factory floor
MI2000 – mid-range for wide range of system expansion
MI3000 contains touch screen LCD display and pre-installed software
MI5000 – Includes two operating systems, VxWorks® and Windows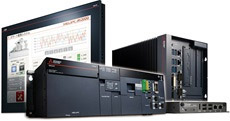 Cognex In-Sight 2000 Mini
In-Sight® 2000 series vision sensors combine the power of an In-Sight vision system with the simplicity and affordability of a vision sensor. Ideal for solving error-proofing applications, these vision sensors set new standards for value, ease of use and flexibility thanks to a powerful combination of proven In-Sight vision tools, simple setup, and a modular design featuring field-changeable lighting and optics.
Together with the In-Sight Explorer™ EasyBuilder® interface, which provides fast, step-by-step application setup, these vision sensors allow even novice users to achieve extremely reliable inspection performance in nearly any production environment.
In-Sight 2000 series vision sensors can also be configured for in-line and right-angle installation and are available in two form factors. This modular body design provides maximum flexibility to mount in tight spaces, allows for customized wiring and optical paths, and minimizes the need to design new mechanical fixtures.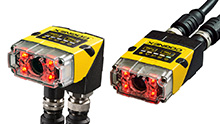 Cognex In-Sight 7000
The In-Sight 7000 series vision system represents a breakthrough in flexibility, performance and ease of integration. This powerful vision system performs fast accurate inspections while its compact footprint easily fits into space-constrained production lines. The unique, modular design is highly field-customizable to your application requirements. Field-interchangeable lighting and optics provides users ultimate flexibility to customize the system for their application.
Full suite of powerful Cognex algorithms and vision tools help you solve applications easily and reliably.
Intuitive EasyBuilder interface allows both novice and experienced users to setup and monitor vision applications.
In-Sight spreadsheet provide ultimate control through direct access to vision tools and communications options.
MiR500
MiR500 picks up and delivers pallets autonomously with the MiR500 Pallet Lift
MiR500™ is an extremely robust robot designed perfectly industrial environments. for both heavy and light transport that can optimize logistics throughout the entire production chain, from the warehouse to the delivery of goods.
With a lifting capacity of 500 kg (1102 lbs) it can automatically collect, transport and deliver pallets with speeds of nearly 7.2 kilometers per hour (4.5 miles per hour). The high speed of the MiR500 streamlines pallet transport in all types of companies and frees up employees so they can carry out more valuable activities.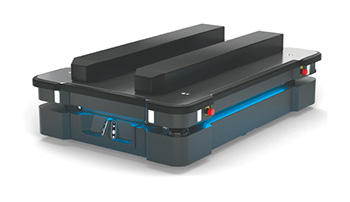 ---