FX5UC Premium Micro PLC
Their smallest and most powerful compact PLC to date
As part of the high functioning MELSEC iQ-F series the new FX5UC model (the 'C' denotes compact) is engineered to handle the increasingly sophisticated data processing and communication tasks demanded by Smart Manufacturing applications.
The CPU module is a quarter the size of a conventional one while incorporating built-in relay and transistor outputs, avoides the need to install additional, spaceconsuming terminal blocks in many applications.
Open connectivity ensures compatibility with a wide choice of network options
Program memory of 64,000 steps and a large device memory
Advanced motion control functions for up to four axes
Execution speed of 34 ns
FX5U -Micro PLC
4-Axes Motion Control, Ethernet, High-speed I/O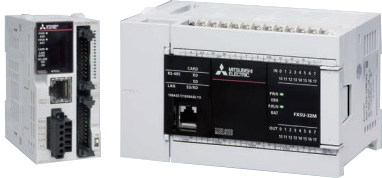 From stand alone use to networked system applications, MELSEC iQ-F Series brings your business to the next level of industry, offering enhanced high speed bus, expanded built-in functions, advanced SSCNETIII/H support and improved engineering environment. Program and parameters are set with the GXWorks3 engineering software.
The FX5U gives the FX a performance boost and adds features that set benchmark standards for compact PLCs. It enables users to develop more complex and sophisticated automation systems, as well as higher performance applications, without having to migrate to a larger and more costly PLC family. 
Connectivity
The FX5U offers simple connection options to a wide range of automation equipment, including Mitsubishi Electric servos and inverters, Cognex vision systems, networks and energy meters, with reduced wiring effort and no additional programming.
Positioning Control
The FX5U includes Mitsubishi Electric´s Simple Motion Unit as an intelligent function module, providing the ability to perform sophisticated motion control for up to 4 axes. Functions include linear interpolation, circular interpolation, positioning control, synchronized control, encoder following and electronic cam.