Mitsubishi GT27 Advanced HMI
Multi-touch Advanced HMI with optional HDMI Port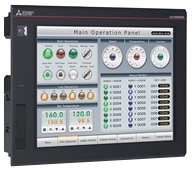 Most HMIs require a PC in order to project the HMI contents on a larger screen. But with the GT27 Series, all you need is a cable.
Production managers and maintenance personnel can benefit from seeing what the machine operator sees on a large public screen, allowing them to respond faster to required actions.
The GT27 Series is a top end graphical operator terminal which includes displays from 5.7" all the way to 15" with resolutions of XGA, SVGA and VGA depending on model selection. It is an advanced model with multi-touch and gesture functions providing users tablet like operation. 
Gesture operations – An industry first, allows operators to interact intuitively with the terminal, increasing efficiency and visibility
Flexible configuration – Create a GOT to match needs, with communication, multimedia, wireless option is also available
Maintenance platform – On-demand portal for accessing detailed system information and PDF/video work instructions, ladder and CNC monitoring, programs backup and restore function
Remote connectivity– GOT Mobile enables remote access on GT27 allowing users to view data in real time or operate system using mobile devices
MES connectivity – Utilize GT27 multi communication abilities to create a powerful MES gateway system
Front 2 USB ports (device and host) – Transfer projects, data logging, connect USB mouse, keyboard, barcode reader or RFID reader
Human sensor – GT27 automatically detects an operator approaching GOT and displays the screen
Expended memory for storage (ROM) – 57MB, for operation (RAM): 128MB
HDMI port option available – An HDMI output is available as an additional option. This allows the incorporation of Andon systems, or for machine data to be publicly displayed on a large TV monitor so an entire factory floor can reference it.
more information about GT27 Advanced HMI
GT25 Wide Screen HMI
High performance, cost efficient HMI
The GT25 Wide Series is a high performance and cost-effective graphical operator terminal with 7" screen and WVGA resolution or 10.1" screen and WXGA resolution, available in a stylishly narrow black or silver bezel. This high performance model has two Ethernet ports, supports a wireless option unit, and supports many of the same features and functions as the standard GT25. It is a great fit for advanced applications where high connectivity or high resolution graphics is a requirement.
KEY BENEFITS:
Improved Visibility – The wide-screen elegant body style presents a large amount of information with high picture quality
Flexible Connectivity – Two integrated Ethernet ports allow connection to two separate networks, and GOT Mobile enables remote access, allowing users to view data in real time or operate the system using a mobile device
Maintenance Platform – The convenient on-demand portal allows access to detailed system information and PDF work instructions, ladder monitoring, program backup and restore function
MES Connectivity – Utilize GT25 multi-communication abilities to create a powerful MES gateway system
2 USB Ports (Device and Host) – Convenient to transfer projects, access data logging, and connect mouse, keyboard, barcode or RFID reader
Expanded Memory for Storage (ROM) – 32MB, for operation (RAM): 128MB
more information about GT25 Wide Series
---