Robotunits Safety Fence System
The easily constructed Safety Fence System
The Robotunits safety fence system for machines and robots offers flexibility and is time-saving in design and assembly thanks to pre-assembled elements.
These enclosures comply with international standards and offer maximum machine safety for industry thanks to maximum stability. In our configurator you can individually design the safety fence system for your machine.
All-inclusive offer
included in price and delivery: Ready to plug in, completely pre-assembled elements and doors
safety fence system modular in the modular system
choice of predefined standard widths and heights
special solutions on request



Ready to install
easy installation of fully assembled panels
minimum time required for on-site assembly
Form-fitted grid integration
impact rated up to 80kg at 10km/h
small number of parts
visually appealing design
High flexibility
easy disassembly for quick and large-area access
safety fence course possible at any angle for any element
Maximum conservation of resources
only one person required for setup
only one Allen key size needed
reusable components
Fully integrated Safety Fence System
continuous, uniform 14mm t-slot
full compatibility with the complete modular system
simple and time-saving attachment options
use of standard elements
---

Safety Fence Basic System
The Robotunits Safety Fence Basic System is ideal to safeguard numerous applications in machine building and production automation. It provides strong impact safety and can easily be installed by one person.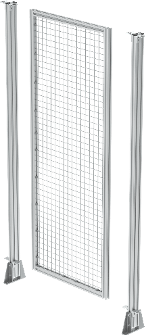 Safety Fence Allround System
In the Robotunits Safety Fence Allround System, each panel can easily be installed between pre-installed fence posts by one person. For large area accessibility, e.g. equipment replacement or modifications, panels can be quickly removed and re-installed.
---