Advanced microstepping drives with multiple fieldbus options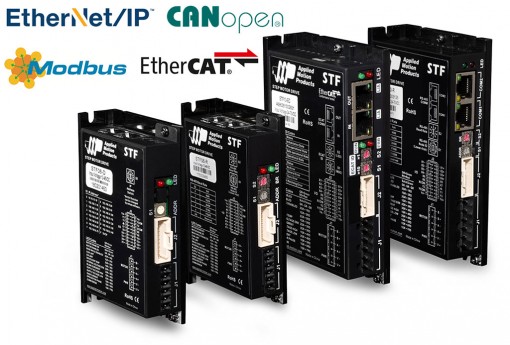 STF Stepper Drives are designed for optimal open-loop step motor performance and compatibility with your preferred industrial Ethernet or fieldbus protocol.
These stepper drives with advanced current control, STF Stepper Drives utilize an anti-resonance algorithm to optimize the torque and speed performance of the step motor. By reducing or eliminating resonance in the step motor, full torque is available to move the load. This translates to higher acceleration and deceleration rates, higher speeds, faster machine cycles, and ultimately greater throughput for your machine or process.
Supported Network Protocols: EtherNet/IP, Modbus, EtherCAT, CANopen
Series Features
Step Motor Drives with multiple communication options
Support for EtherCAT, EtherNet/IP, CANopen, Modbus, Ethernet (UDP & TCP), RS-485
Efficient and smooth open loop control
Anti-resonance algorithm maximizes torque over a wide speed range
Torque ripple smoothing increases smoothness and decreases vibrations
Compact size
Compatible with a wide range of step motors