Epson
Epson Robots set the industry standard for high performance and speed, ease of use, superior precision and overall value. Besides featuring a comprehensive lineup of 6-Axis, SCARA and Linear Modules, Epson offers a two-tiered controller approach with the powerful Open Architecture RC620 Controller and the value-oriented RC180 Controller. As global leaders in industrial 6-axis and SCARA robot manufacturing, Epson provides consumers with the highest quality industrial robots.
T3 SCARA Robot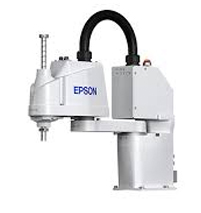 The T3 All-in-One SCARA robot requires less installation time than solid-based systems with fast and easy integration. The T3 offers a space-saving, all-in-one design, including power for end-of-arm tooling and a built-in controller to give it an economical price.
Four axes to provide increased flexibility
Efficient operation and simple maintenance
Low wattage and power consumption to promote significant energy savings
The small footprint and all-in-one design save considerable space
An encoder requiring no battery
Inputs and outputs that are highly accessible
---
G Series SCARA Robots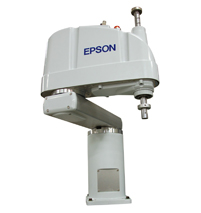 With models ranging from 175 to 1,000 millimeters in length, the G-Series SCARA Robot provides the most extreme power of choice. These models come in tabletop or ceiling designs with IP54, IP65 and clean/ESD dust or washdown options.
G1: Mini SCARA robots with either 175- or 225-millimeter arm lengths
G3: The third generation of SCARA robots featuring over 30 models sized 250-350 millimeters
G6: Available in 450-, 550- and 650-millimeter lengths
G10: Able to run at high speeds 24/7 with a design that can handle the heaviest payloads
G20: Features a 1,000-millimeter reach and a 20-kilogram payload capacity
---
LS Series SCARA Robots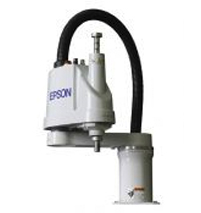 The LS-Series SCARA Robot uses low-cost technologies like the new RC90 Controller to offer an economical, high-performing, high-value factory solution.
LS3: Features a 400-millimeter arm length
LS6: Available with 500-, 600- and 700-millimeter arm lengths
LS10B: 10-kilogram payload capacity with high acceleration and deceleration rates
LS20: 20-kilogram payload capacity at an economical price
---
RS Series SCARA Robots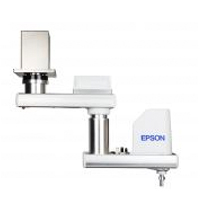 RS-Series SCARA Robots feature an innovative design to improve cycle throughput and work envelope usage. The arm structure allows Joint 2 to maneuver underneath Joint 1, utilizing the entire workspace below the arm.
RS3: Features a 350-millimeter arm length with no lost workspace at the envelope's center
RS4: A zero-footprint device with a 550-millimeter arm length
---
GX-Series SCARA Robots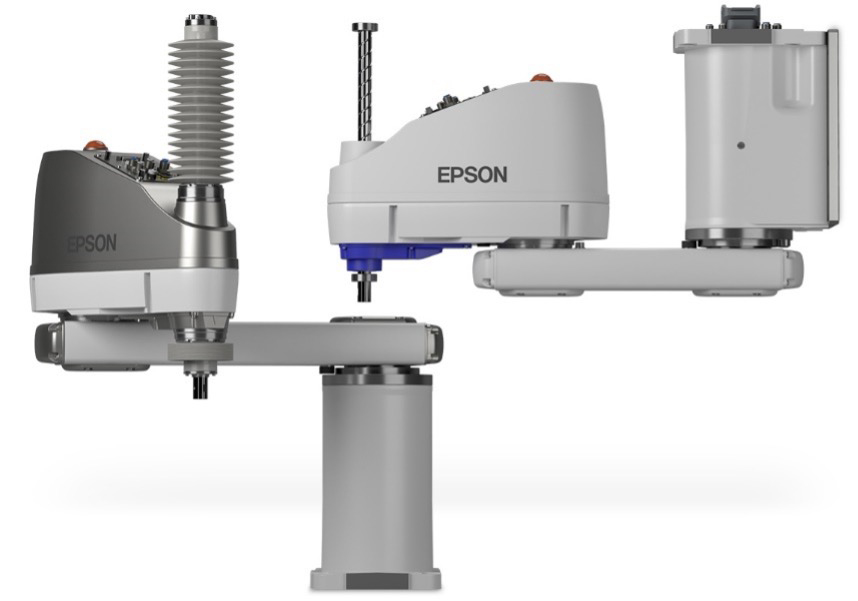 A new class of high-power-density SCARA robots, GX-Series builds upon Epson's 40 years of expertise to deliver next-level performance and flexibility. Engineered to meet your unique automation needs, it offers multiple arm configurations and high throughput with large payloads to accomplish the most demanding tasks with leading-edge precision.
Ultra high performance and flexibility — high throughput with large payloads to accomplish the most demanding high-tech, small-parts assembly needs
Unique high-power-density SCARA — innovative, slimline design handles heavy workloads at fast speeds, all in a small footprint
Fast cycle times — higher acceleration compared to prior generations, smooth motion and fast settling times help maximize throughput for high-precision applications
Low residual vibration — fast settling times with proprietary Epson GYROPLUS vibration reduction system and rigid arm design, plus no ringing or overshoot
Low total cost of ownership — includes battery-less encoders, a built-in Ethernet cable and Epson RC+ software with no recurring license fee
---
6 Axis Robots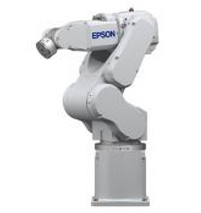 The Epson 6-Axis Robot delivers high precision, high performance and high payloads in a slim body design with a compact wrist.
C4: A compact device featuring an 855-millimeter vertical reach and a 655-millimeter horizontal reach
C4L: A long-reach model with a 4-kilogram maximum payload and a 900-millimeter horizontal reach
C8: A mid-sized 6-axis robot with an 8-kilogram maximum payload
C12XL: Features a 12-kilogram payload capacity with a 1,400-millimeter reach
---
VT6L 6 Axis Robot
The VT6L All-in-One 6-Axis Robot features next-level technology to offer a high-value price. It boasts many features of an Epson high-level robot, including a 900-millimeter reach, a built-in controller, RC+development software, easy integration tools and a 6-kilogram payload capacity. It's the ideal solution for parts transfer automation, from loading and unloading to parts assembly and packaging.
An all-in-one solution with a space-saving design
Easy to use
Slimline design
Simple cabling
Low power consumption and wattage
---
Flexion 6 Axis Robot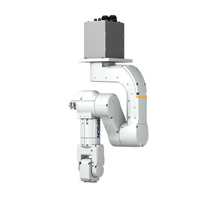 Flexion 6-Axis Robots feature Epson's trademark compact folding-arm technology while providing superior benefits like work cell space reduction and motion efficiency. This device can operate in close spaces and function on tight assembly lines where traditional 6-Axis robots fail.
N2: Features a 2.5-kilogram payload with a 450-millimeter reach
N6: Offers a maximum payload of 6 kilograms with a 1,000-millimeter reach
---
Controllers & Options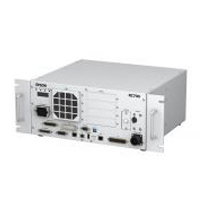 Epson's multitiered controller offering gives customers the power of choice to select the ideal product for the job. The Epson Vision Guide Software sets the industry standard for ease of use with point-and-click functionality and high-performing vision tools.
RC90: An inexpensive yet powerful controller for LS Series SCARA Robots
RC700A: The next generation of Epson PC-based work cell controllers
CV1: Easy to use vision guidance.
CV2: High-performance vision guidance with increased speed over the CV1
---
RC+ Express Software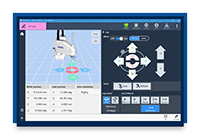 RC+ Express is a visual-based teaching environment that's easy to use and ideal for new users with little or no robotic programming experience. The simple builder interface lets operators perform basic programming tasks without the assistance of an engineer.
The environment uses an easy-to-learn, block-style robot to quickly get operators up to speed. This intuitive environment pairs with LS-B Series SCARA and Epson's T-Series All-in-One robots.
---
IntelliFlex™ Parts Feeding System
Epson's IntelliFlex parts feeder solutions consist of three-axis flexible vibratory feeders that provide pre-orientation, high-performance parts feeding, and superior bulk component and part distribution. These systems use Epson Robots, Vision Guide and IntelliFlex software to offer a powerful solution for a broad range of features to simplify setup and improve flexibility.
IntelliFlex 80 – components from 3-10mm
IntelliFlex 240 – components from 5-40mm
IntelliFlex 380 – Objects from 15 to 60mm
IntelliFlex 530 – items from 30 to 150mm
---
---